How To Buy Right Beauty Products Online for Beginners: 5 Tips & Tricks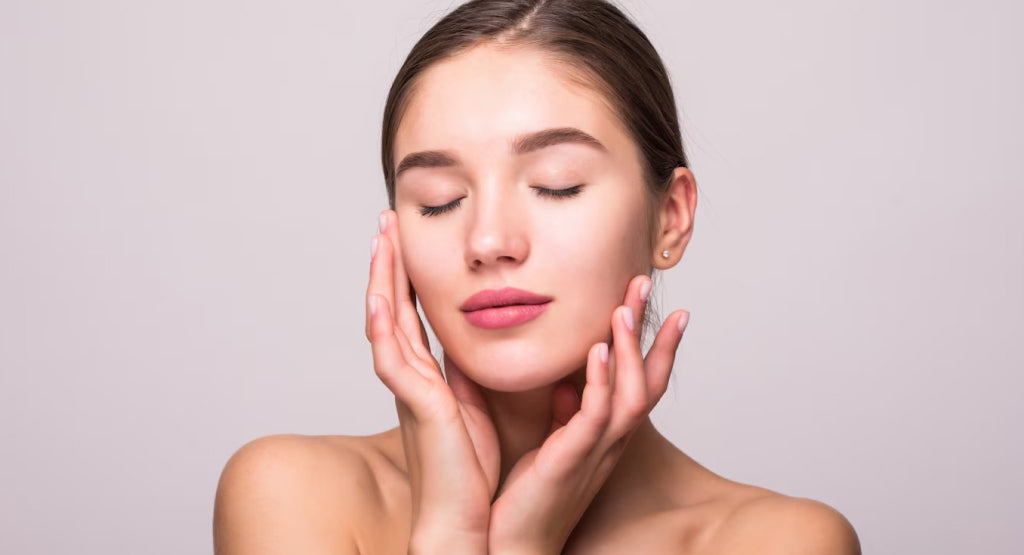 Are you unsure of how to navigate through a host of beauty brands online launching every single day? Beauty is one of the leading sectors and right from Instagram to TikTok, a new influencer and brand is launching every day.
However, how do you determine if this product is good enough to claim a prime spot in your daily routine? Whether you're new to exploring the beauty of looking to invest in new products, understanding how to choose your skincare online is important to find a product you love.
Here are some things to keep in mind so that you understand how to shop online for beauty products and decide if the brand deserves your investment and interest.
Buy makeup products online
Beauty is one of the leading sectors that have brought about a huge rise in influencer marketing. When looking to buy makeup products online, it's easy to get confused at what products or brand suit you the best and if you're just starting this can be challenging.
With the industry coming up with new products and formulations each day, you need to keep up with the innovations and look for products that can help you perfect your skincare routine.
For some, skincare ends with a cleaner or toner, while others will have a curated 10-step routine with the best beauty products in NZ or follow their favourite makeup artists. Good skincare starts at the base and you need to get a good night's sleep while also choosing a great silk pillowcase.
However, finding a middle ground will allow you to find the best ways towards a simple yet effective beauty routine. Here are three things you absolutely must do to enhance your skincare routine.
The first step to an effective skincare routine, double or triple cleansing not only removes any oil, pollution, and microbes from the skin but forms an effective base allowing your skincare products to get absorbed better.
Always cleanse your skin twice a day as daily skincare and cleansing can bring a certain grounding to your daily life.
Keeping your skin hydrated is so important, you can choose a simple moisturizer online that is lightweight, protects your skin and keeps you hydrated all day long. Night creams can also help seal in your skincare before you go to sleep.
When searching for beauty products online in NZ, sunscreen is a must-have. Look for brands that match your skin type and tone along with containing hydrating and natural ingredients that protect your skin from pigmentation, fine lines, and wrinkles.
SPF should be the last step of your skincare and while most people tend to opt for SPF 50 you can always go for SPF 30 depending on how much you tend to go out and the activities you do.
Buy skincare products online
Unlike what most people think, great skin is not just a matter of DNA. It all comes down to your daily habits, your diet, and the products that you use. When looking for skincare online, you need to choose products that are personal to you and sort through all the noise.
It was estimated that the skincare market in New Zealand was valued at $1.3 billion in 2021 and is expected to grow more than 3% in the next upcoming years.
Here are some rules to help you find the best skin care products online for your skin type.
Before you buy skincare products online, the important factor is determining what products will work the best for your skin. While there are no bad products, it only comes down to what you use and if it fits in with your skin type as this can affect how your complexion looks and feels.
For example, people with acne-prone and sensitive skin need to be cautious as to what products they use as it can trigger breakouts and irritation at times.
Most brands will package and label their products in an attractive manner, and this will not directly relate to the quality of the products. Avoid buying a product just because a friend or influencer recommends it, instead do your research, and determine if the product fits your skincare needs.
Customers nowadays are educating themselves on certain skincare ingredients and the safety and efficacy of these products so that they can make better-informed decisions.
Look for certain ingredients
Look to buy beauty products online in NZ that contains certain ingredients like Glycerin, ceramides, and hyaluronic acid. These ingredients are important moisturizing agents and can help maintain moisture and balance out your skin.
Another set of ingredients to look for are vitamin C and vitamin E along with retinol. These ingredients work to reverse UV radiation, stimulate collagen production, and turn over skin cells for a brighter and more even complexion. You can also try Aloe vera gel for sensitive skin.
Women beauty products online
A guide to applying your skincare perfectly
Most women beauty products online can be a tad pricey and the last thing you want is for that expensive serum you splurged on to not work well because you aren't applying it the right way.
The order in which you apply your natural beauty products in NZ can make a real difference and help increase the efficacy of your products. The global skincare market is valued at $146.7 billion and is estimated to reach around $273.3 billion by 2031.
Here is the correct order to apply your skincare in:
The first thing you need to do is cleanse your skin every morning and every night so that any dirt, dust, pollution, or makeup gets removed and this can help you keep your skin clear and clean. Opt for a gentle facewash that contains hydrating ingredients for your skin.
Once you clean your skin, reach for your toner. Toners are wonderful products to use and can help calm down your skin while adding an additional layer of hydration to it.
Opt for a good serum that contains vitamin C and has skin-protecting and anti-ageing ingredients. Such a serum will not only treat your skin but also make sure it's smooth and refined.
As a part of moisturizing your skin, look for products that keep your skin hydrated, plump, and balanced depending on your skin type. You can also opt for a good eye moisture to hydrate your under-eye area and prevent fine lines and wrinkles.
Lastly, finish off with sunscreen that can help block the harsh rays of the sun and prevent ageing, fine lines, and hyperpigmentation.
Buy beauty products online
What makes most people want to buy beauty products online? A while back consumers could count the number of beauty brands on their fingers, however in recent years several new organic beauty products in NZ have been released.
This has made online shopping tricky as with so many products online how do you know which ones are made to suit your needs? The pandemic has also contributed to a range of businesses moving online and this has made it easier for people to get access to their favourite products.
The key for beauty brands is to personalize their products and cater to a certain customer base allowing them to understand what customers expect from them and how to go about it.
The connected beauty consumer report shared that online shopping has made it much easier to get connected to a range of beauty products without leaving your home. While skincare needs can vary from person to person, many brands are now trying to take into consideration the location, lifestyle, and age.
Beauty products store in Christchurch
Skincare dos and don'ts according to professionals
Have you noticed that some people don't look their age and can appear fresher and more radiant? This all comes down to the type of natural skincare products in NZ they use. Along with cutting-edge technology, attending to your skincare concerns and using the right products can go a long way.
When looking for a beauty products store in Christchurch, here are a couple of dos and don'ts you will want to avoid.
Hydration is key and drinking water is very vital to your body. Along with this you also need to choose skincare that's natural and hydrating and contains glycerin or hyaluronic acid that's great for your skin.
When it comes to your skincare routine you need to be consistent which is why it's good to choose products that fit within your budget instead of investing in expensive products you can only afford once. Look for products with honey and malai for a natural glow.
A lot of people tend to over-exfoliate and if your skin is feeling sore or tight then avoid exfoliating more than once a week. Constant exfoliation can be harsh on your skin and wear away the barrier of your skin leading to irritation and breakouts.
Buy beauty products in Christchurch
When you are looking to buy beauty products in Christchurch, the biggest task is finding the right beauty brand for your needs. Always do your research and look for the brand, its reviews, products and suitability to your skin type. This can help you understand which brand is the right choice for you.
Here are some reasons to shop for beauty products online.
When it comes to New Zealand natural skincare products most in-house brands tend to avoid returns, however, investing in products online offers you a good guarantee allowing you to return the product if you aren't happy with it.
You can also avail of good customer service and offer your feedback or complaints if any.
Trusted and reputable brands
Unlike certain stores, where you only need to search in your local area, there are so many brands online and this allows you to choose the best brand for you. You can go through several brands and narrow down the best one that is ideal for your skin type and tone.
See if the cosmetic brand that you choose has suitable, natural, and hydrating ingredients along with a range of BB creams and makeup that's safe for your skin. As the wrong ingredients can have a long-lasting effect on your skin.
The biggest skincare trends of 2023
Right from Pinterest to TikTok and more, Skinimalism features embracing your natural skin texture and adopting a minimal skincare routine. Simplifying your skincare routine is good, however, you need to choose smarter products that can minimize the steps in your daily routine and take you in the right direction.
Sustainable is the new clean
When it comes to skincare products for dry skin a lot of people are moving away from plastic packaging and towards eco-friendly materials and ingredients that are good for the planet and their skin. This has led a lot of brands to house their products in plant-based materials and recyclable containers.
End Note
With so much to learn about skincare, it's easy to get confused. However, always stick with high-end brands like Saheli as they offer you a range of beauty products that are safe for your skin, natural and can easily help you get the desired results while keeping within your budget.
---