The Ultimate Guide To Safely Buying Jewellery Online in New Zealand
by

Saheli Ethnic Indian Wear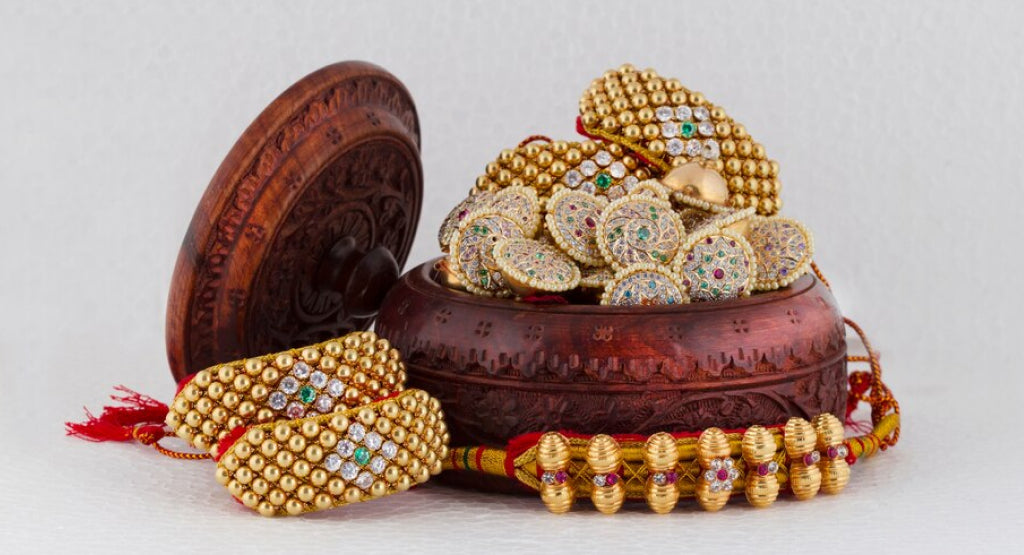 From choosing experimental designs to investing in classic and timeless pieces, if you're looking for an instant and stylish way to elevate your outfits, a selection of well-chosen jewellery can uplift and enhance your daily wardrobe.
Whether you veer towards minimal stacked rings, prefer chandelier earrings, or even classic bracelets, shopping for jewellery can be tricky. With so much choice in the market and online, how can you choose the best pieces that will work with your existing collection?
Choosing the right jewellery calls for simple and effortless tips that can help you create a unique and personal feel. Buying jewellery online allows you to explore a range of brands while relaxing at home and rely on the best brands to source the baubles you love.
Here are some tips to keep in mind when shopping online that will help you narrow down the best pieces for you.
Buy jewellery online
The first step to keep in mind when looking to buy jewellery online is to dismiss any negative preconceptions you may have about online shopping. Online shopping for New Zealand jewellery is straightforward and simply requires a bit of effort and patience. This allows you to choose pieces that pair with your style and resonate with your personality and aesthetics.
Studies show that more than a lot of people each year are moving online to shop and around 50% of jewelry stores now have an online presence with another 10% of brands have multiple stores online. Here are some things to keep in mind when buying jewellery online.
When looking for gold jewellery in NZ, always have something specific in mind, especially if you're new to online investing. This can help you filter your search and find something you love or better.
With a lot of women investing in fine jewellery for various occasions, the jewellery industry's shipments have grown at an average of 11.2% for the last five years. If you are looking for an heirloom piece then make sure that you invest in a reliable professional that offers you great construction and high-end metals.
Before you choose a professional, take the time to research their website, social media pages, reviews, past client experiences and more. Research done on investment purchases concluded that the online jewellery market is expected to grow at an annual growth rate of 19.56% over the next couple of years.
Online retail has grown significantly, especially when it comes to jewellery, and with customers, brands saw more than a 15% sales turnover in the last couple of years.
Best artificial jewellery online
The fact that jewellery needs to cost the earth to be good isn't true. While diamonds are forever, the best artificial jewellery online is cool, statement-making and widely chosen by women as a beautiful replacement to fine jewellery. So, you can invest in lovely pieces without spending a lot.
With the growth of artificial jewellery, the Australian and New Zealand market is expected to improve by a growth of 2.2% which will increase fashion revenue by more than $22M.
Instead of writing off those silver-plated earrings or stacked bangles for your occasions, you can easily mix and match them to create some beautiful pieces. An Australian-based bridal directory reported that brides spent close to $12, 690 in 2020.
Now women all over and brides are choosing beautiful costume jewellery for evening soirees, festivals, and occasions or even to destination wedding functions and dates. With a range of jewellery stores in NZ online, brides can wear their favourite fashion jewellery all the time.
Buy diamond jewellery online
If you're on a quest to buy diamond jewellery online to build the perfect jewellery collection, diamond earrings are the ideal place to start. Your NZ jewellery designers will tell you that diamond earrings offer a ton of sparkle and fire to elevate any outfit and look.
Whether you're shopping for an occasion, a big moment, or even gifting yourself some lovely earrings to mark a small milestone, makes it more special. Diamond jewellery comes in a range of styles, prices and ethics allowing it to maintain its appeal and longevity over time.
 Things to look for in a diamond retailer
In terms of aesthetics, look for a professional that matches your style and personality preferences along with selling clean and contemporary styles.
A lot of brides are looking for jewellery and diamonds that are procured with ethical practices. Pieces that contain lab-made diamonds, recycled gold or even responsible jewellery that highlights how and where their pieces were made along with certification can help brands to move forward in the industry.
The 4Cs of carat, cut, clarity and colour are essential quality requirements. Remember, the higher the grade and clarity the rarer and more valuable your piece is. Quality requirements are essential. They can help you determine how much your piece is worth and allow you to keep your budget in mind.
Lab-grown pieces are a great choice as you get all the value and shimmer of a diamond at an affordable price, even for larger carat sizes.
Gold jewellery online
There is something magical and classy about gold Indian jewellery in NZ, right from necklaces, earrings to rings. Gold jewellery online is luxe and durable, making it perfect for daily wear. These pieces easily stand out in any room, making them the perfect choice for your special occasions.
Gold jewellery online is both classic and valuable and learning to take care of your pieces is important along with taking them to a professional from time to time. No matter the occasion, these striking pieces can inject some beauty and uniqueness into your attire.
Imitation jewellery online shopping
Jewellery stores in Christchurch offer a range of imitation jewellery online shopping that's perfect for occasions and events and offer you an eye-catching piece to complete your look. While jewellery has always been about sparkle and shine, most people nowadays are looking for classic and unique pieces that are an alternative, like freshwater pearls and silver.
Imitation jewellery encourages a great deal of transformation in the industry and is valued at $16.70 Bn. This doesn't mean that couples don't choose gemstones and diamonds, it's just that imitation pieces offer an affordable alternative and allow you to save for the high-investment pieces you adore.
Women gold jewellery
Fine jewellery is up there when it comes to quality, however, it isn't practical for daily wear, especially if you have sensitive skin. When it comes to online jewellery in NZ, most high-end pieces contain certain traces of nickel or copper which can lead to a full-blown allergy.
It was estimated that approximately 8% to 9% of adults and 10% of children had a nickel allergy. If your skin reacts to these pieces then you need to look for jewellery that is irritation-free, high-end, and cost-effective.
The best women gold jewellery does not contain any nickel or cobalt which are found in silver pieces rather than platinum or yellow gold. Sterling silver contains 92.5% of pure silver while the remaining 7.5% is made up of nickel, silicone, and other metals. Avoid any of these pieces and ask your local professionals about the metals online before you invest in them.
Plated jewellery allows you to get a high-end piece that fits within your budget. Just be careful as these pieces tend to wear down over time and you will need to get them re-plated. While these pieces are stunning, if not taken care of, they can lose their value.
Buy gold jewellery online in NZ
If you're looking for a jewellery shop near me online that offers you a range of options and bridal jewellery along with sourcing the best accessories for you then Saheli is the ideal choice.
Saheli Indian ethnic wear and beauty not only offers you modern and antique jewellery in NZ but showcases the best quality ethnic wear for every woman, right from casual to bridal and even for events so that you can choose the best trousseau for your big day.
These pieces are designed with a range of metals and gemstones along with being graded based on the 4Cs of diamond evaluation. Working with these reputable jewellers and professionals allows you consistent GIA certification along with peace of mind.
Tips to choose the best jewellery pieces
When looking to buy gold jewellery online in NZ, you can go ahead and opt for those fancy and statement pieces. Avoid feeling guilty for splurging on classic and timeless pieces that you adore, instead choose various metals and gemstones that resonate with you for an elegant appeal.
Remember less is more and when it comes to your pieces, make sure that they balance out your outfit and blend in perfectly. If you have a couple of pieces you wear daily, you can add those for an on-trend rush.
Depending on the type of metal you choose, each metal will need a certain amount of care and maintenance every couple of months. 
In Conclusion
When it comes to choosing the perfect pieces, always look for a reliable and trusted professional who can offer you high-end metals and gemstones along with imitation pieces and plated options that fit within your budget.
While there are no staunch rules, make sure that your jewellery does not have any pointy edges or loose prongs that can snag on clothing and soft surfaces and break or chip your piece. Also, look for pieces that are hypoallergenic, lightweight, and comfortable.
---